Anne Perry Books in Order | Thomas Pitt & William Monk Series – Historical fiction is one of the genres that have a great fan base. If you love to read historical fiction-based novels, then Anne Perry's books will interest you the most. Anne is one of the only living writers who wrote long-running series of novels.
Who is Anne Perry?
Anne Perry is an English author who was brought up in New Zealand. Her real name is Juliet Marion Hulme and born in 1938. After her conviction in the murder of her friend's mother, she shifted to the US. Here she changed her name to Anne Perry and began working in fights attended.
Anne Perry wrote some great novels, whereas two of her novel series, Thomas Pitt and William Monk, are the most selling books. She is an expert in writing historical fiction and started writing in the year 1979. Apart from this, she wrote a collection of short stories, and in 2001, Anne Perry won the Edger Award for one of her short stories.
Anne Perry Books in Order of Publication
Anne Perry wrote over 76 novels to date. The novel series includes Charlotte and Thomas Pitt, William Monk, World War 1, Daniel Pitt, Elena Standish, Tathea, and Timepiece. Among all, her Thomas Pitt and William Monk are the most popular series. 
In this article, we will give you a glimpse of our favorite Anne Perry Books in Order.
Publication Order of Charlotte & Thomas Pitt Books
Publication Order of Christmas Stories Books
Publication Order of Daniel Pitt Books
Publication Order of Elena Standish Books
Publication Order of Most Wanted Books with James Lovegrove, Eric Brown, Mark Morris, , Graham Hurley
Publication Order of Tathea Books
Publication Order of Timepiece Books
Publication Order of William Monk Books
Publication Order of World War I Books
Publication Order of Standalone Novels
Publication Order of Non-Fiction Books
Publication Order of Bibliomysteries Books
Chronological Order of Bibliomysteries Books
Publication Order of World's Finest Mystery and Crime Stories Books
Publication Order of Anthologies
Charlotte and Thomas Pitt Series
The first novel written by Anne Perry, The Cater Street Hangman, was published in 1979 and created an amazing mystery series, Charlotte and Thomas Pitt. This series is one of the longest-running series with over 32 novels. The plot shows the investigation stories by characters Charlotte and her husband, Thomas Pitt.
The Cater Street Hangman
The first novel of Anne Perry belongs to the Charlotte and Thomas Pitt series. This novel showcases the mannerism and caste system from the Victorian era perfectly.
While Ellison's sisters were drinking tea and paying calls like any Victorian girl, their maid was dead by strangulation.
Young inspector Thomas Pitt was asked to do the investigation of this murder. He is known for his composed questioning that makes even a gruesome accused accept his crime. While questioning this murder mystery, he felt attracted to one of Ellison's sisters, Charlotte Ellison. 
The novel shows the perfect descriptions of nerve-wracking murder mystery and love bounded by the caste system.
Murder on the Serpentine
This is the 32nd novel from the Charlotte and Thomas Pitt novel series. Anne Perry has successfully held the grip over another bone-chilling and interesting murder mystery.
Thomas Pitt, a young inspector, got a high profile, almost royal case on the special request of her majesty itself. It turned out; Queen's special confidante was found dead in the high waters of Serpentine. He was asked to keep an eye on a horse racing enthusiast who has a great influence on the prince of Wales.
Thomas, along with his wife, Charlotte, who has social contacts investigate the royal society with much secrecy as he suspects that murderer is from upper-class people. While investigating, he learns some truths that have a direct threat to the monarchy.
William Monk Series by Anne Perry
It is yet another famous novel series from Anne Perry's books in order. The main protagonist William Monk is an experienced police detective from London who lost his memory in a fatal accident. He was told his new name was William Monk and, after recovering, asked to solve some difficult cases.
The Face of a Stranger
This is the first novel from the famous William Monk series. A highly skilled police detective from London met with an accident. This accident made him lost his memory and his fine skills as a detective. He was then told his name as William Monk.
He does not want to reveal the truth about his memory loss and rejoined the police force. On arrival, he handed over a difficult investigation of a Crimean war hero. With almost forgotten detective skills, William finds it difficult to solve the mystery.
The Sin of the Wolf
The Sin of the Wolf is the fifth novel from the William Monk novel series. Anne Perry is the best novelist when it comes to Victorian Mysteries. This book is a great example to prove this saying.
Mrs. Farraline, a wealthy old lady with delicate health, is accompanied by Nurse Hester on the short train trip in London. Under mysterious circumstances, Mrs. Farraline dies from an overdose of medicine. Undoubtedly Hester was blamed as accused and arrested. The trials had been scheduled with the pre-decision of execution.
William Monk is all set to fight for the innocence of Hester. For that, he must find out important evidence against the Ferraline clan and convince the juries to release Hester.
The Echo of the Murder
The 23rd novel from the William Monk novel series, The Echo of the Monk, is yet another awesome Victorian mystery masterpiece by Anne Perry.
A Hungarian warehouse owner was found dead with a bayonet in his chest and 17 lit candles around his blood-soaked body. With suspicion towards the Hungarian community in London, William is set to investigate there but is unwelcome because of his foreign language.
With the help of the local pharmacist, he tries to communicate with the community only to learn about more victims of identical murders. He is sure that a killer or maybe killers are well hidden in this closely-knit Hungarian community.
With the assistance of his clever wife Hester- a former battlefield nurse, William must fight against the odds and the people he has been protecting. With murders on the rise, he finds it difficult to communicate with Hungarian. He must find some relentless ways to grab the killers.
The fifth novel in Anne Perry's breathtakingly tense and exciting spy thriller series, featuring young British photographer and secret agent Elena Standish, is set in the 1930s when the world was a place of increasing fear and uncertainty…

As Hitler's influence spreads across Europe, the future of Britain is at stake…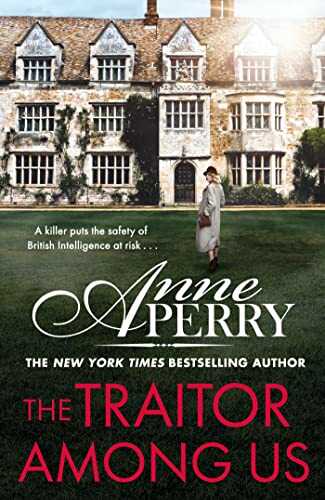 It is late summer 1934 when retired MI6 agent John Repton's body is found near Wyndham Hall in the Cotswolds. Repton was killed while investigating the Wyndham family's ties to fascist sympathizers, and Elena Standish is assigned to discover if one of them resorted to murder . . .

Meanwhile, Elena's sister Margot is courting Lady Wyndham's brother and, unaware that Elena is a spy, Margot invites her to attend a house party at Wyndham Hall along with her colleague James Allenby, who masquerades as her suitor. As the atmosphere becomes increasingly tense, Elena and Allenby begin to expose the allegiances of the people in the house. But Elena is torn, for she knows that revealing the truth will protect the nation's security but could potentially destroy her sister's happiness . . .
Conclusion – Anne Perry
Anne Perry's books in order are the best read of Victorian Mysteries. Anne never loses their grip over the facts and layouts that reveal the lifestyle of the Victorian era.
She holds a firm command and keeps her readers glued to the reading chair with her novels. We highly recommend you to read some amazing novels by Anne Perry.
Top Faq on Anne Perry
Read other awesome authors
What do you think about Anne Perry and her books? Leave your thoughts below.