Kyle Mills Books in Order – Do you love reading books of different genres such as Mystery, Suspense, Political thriller, or thriller? If yes, then Kyle Mills Books in order is going to be added next to your reading list.
Kyle Mills is an American novelist and The New York Times, bestselling author. He wrote his spy series such as Mark Beamon but also took over other series like Robert Ludlum's Covert-One. Kyle posthumously writes for Vince Flynn's latest Mitch Rapp Series.
Let's find out about Kyle's imagination and writing skills in his work along with his early life, achievements, and other details.
Kyle Mills Books in Order
Let's have a look at the top books and series by Kyle Mills in their publication order.
Publication Order of Mark Beamon Books
Publication Order of Mitch Rapp Books with Vince Flynn
Chronological Order of Mitch Rapp Books with Kyle Mills
Publication Order of Covert-One Books
Book Title
Year
Buy at Amazon
The Hades Factor
(By: Gayle Lynds, Robert Ludlum)
(2000)
Buy Now
The Cassandra Compact
(By Robert Ludlum, Philip Shelby)
(2001)
Buy Now
The Paris Option
(By Gayle Lynds)
(2002)
Buy Now
The Altman Code
(By Gayle Lynds)
(2003)
Buy Now
The Lazarus Vendetta
(By Patrick Larkin)
(2004)
Buy Now
The Moscow Vector
(By Patrick Larkin)
(2005)
Buy Now
Robert Ludlum's The Arctic Event
(By James H. Cobb)
(2007)
Buy Now
The Ares Decision
(2011)
Buy Now
The Janus Reprisal
(By Jamie Freveletti)
(2012)
Buy Now
The Utopia Experiment
(2013)
Buy Now
The Geneva Strategy
(By Jamie Freveletti)
(2015)
Buy Now
The Patriot Attack
(2016)
Buy Now
Publication Order of Fade Books
Publication Order of Standalone Novels
Kyle Mills Biography
Kyle Mills was born on March 21st, 1966 (Monday), in Oregon, on the west coast of the United States. He grew up in Virginia, DC, London, Wyoming, and Maryland, because his father was an FBI agent. Being a bureau kid, he was nurtured in an army surrounding.
The FBI background helps him from the root level to understand criminology and how the agency works, which can be observed in his work. In the year 1980, he graduated from college and started working in a corporate job.
When Kyle started working in Jackson Hole in a bank, where he would spend his time in climbing skills, and other creative works. Kyle's wife suggested writing a book and that is how his debut novel Rising Phoenix, was published in 1997 and added to Kyle Mills's Booklist.
Kyle Mills Top Books Summary
1] The Mark Beamon Series in Order
''Rising Phoenix" is the primary novel withinside the "Mark Beamon" collection and was published in the year 1997. Special Agent Mark Beamon is a maverick, as is his open disdain for the FBI's rules, and Directors. However, while a shadowy right-wing institution starts off flooding America's emergency rooms with loss of life and death, Mark receives summoned lower back to DC.
He has been given the thankless process of preventing the slaughter, even though hundreds of thousands of Americans surely approve of it all. While the frame matter keeps rising, he realizes there's something spookily acquainted with his foe, reminding him of the coldest killer that he has ever encountered.
The other books in the series are Storming Heaven (1998), Free Fall (2000), Sphere of Influence (2002), and Darkness Falls (2007). Go through the Mark Beamon Series from Kyle Mills Books in Order and discover Agent Mark Beamon's adventure.
2] The Fade Series in Order
The Fade Series is second on the list of Kyle Mills Books. It consists of two novels; Fade (2004) and The Second Horseman (2006). A secret agency of Homeland security is recruiting agents to work disguised withinside the Middle East, and the director needs his second–in–command, Matt Egan, to deliver aboard an antique buddy, Salam Al Fayed – higher called Fade.
He's perfect: An ex-navy Seal and the son of immigrants, he speaks perfect Arabic. The authorities refused to pay for the volatile surgical treatment that might have helped him. Now he's on foot round with a bullet lodged close to his spine, and he's now no longer too Keen on each person withinside the authorities-least of all, his ex-first-rate buddy Matt Egan, who he blames for his present condition.
3] The Covert-One Series
After the demise of Robert Ludlum, Kyle Mills and other authors took over the Covert-one series. Within United States intelligence companies wracked through inner electricity struggles and paralyzed through bureaucracy, the president has been pressured to set up his clandestine group – Covert-one.
The Series starts with The Ares Decision (2011), Covert – One's top operative, army microbiologist Colonel Jon Smith, is sent to investigate the attack and finds evidence of a parasitic infection, which for centuries has been causing insanity and suddenly going dormant. Dresner Industries exposes the Merge, a device that is destined to revolutionize the world and make the personal computer and smartphone obsolete.
Covert-One operative Colonel Jon Smith is assigned to get its military potential. Meanwhile, top Covert-One operative Colonel Jon Smith is sent on a mission to recover suspected material from the wreckage of the Fukushima nuclear reactor.
The other novels in the series are The Utopia Experiment (2013) and The Patriot Attack (2015). Grab the series from Kyle Mills Books and find out whether the agent was successful in the mission.
4] Standalone Novels
Standalone Novels stand fourth in the Kyle Mills Books in Order. There are four novels under this section interlinked with each other. The first one is Burn Factor (2001), Smoke Screen (2003), Lords of Corruption (2009), and The Immortalists (2011).
Quinn Barry desperately desires to be an FBI agent, whilst she applies databases withinside the basement of the J. Edgar Hoover Building. But Quinn's career- and her life- are about to alternate wildly. Testing a brand-new program, Quinn's laptop savvy turns up a mysterious DNA hyperlink amongst five grotesque murders. A hyperlink that the antique FBI machine has been cautiously programmed to miss.
They were blamed for this so-called error and were immediately reassigned to Quantico for what ended up being a bit more than just a routine upgrade. She starts suspecting a much scarier scenario than just a simple hitch in CODIS programming.
5] Mitch Rapp Series
The Mitch Rapp series currently has eight novels under it. The story begins with its first book The Survivor (2015), which picks up Vince Flynn's last book, The Last Man, left off. When Joseph Rickman, ex- CIA star, stole touchy statistics from the CIA, little did he recognize that he could become lifeless quickly. Mitch Rapp despatched after him, however sadly, casting off the traitor didn't resolve the problems.
After Mitch, working together with Scott Coleman gets a hold of one of those nukes, he learns something that gets him to infiltrate ISIS hoping to learn more. The series consists of more than seven books that are Order to Kill (2016), Enemy of the State (2017), Red War (2018), Lethal Agent (2019), Total Power (2020), Enemy at the Gates (2021) and Oath of Loyalty (2022).
Get the Mitch Rapp series novel from Kyle Mills Books list and discover Whether Mitch Rapp gets the hold of ISIS or not.
Wrap Up – Kyle Mills
If you love to read political thriller books, then Kyle Mills Books in Order must be included in your reading section. Usually, Kyle Mill's books are themed on the terrorist attack, espionage, or agency that helps the nation to conflict with the sources which are threatening national security.
Once you read his books, you will like and crave to explore more.
Mitch Rapp series upcoming book – Oath of Loyalty
Vince loved to arc storylines over multiple books and with Oath of Loyalty, I very much follow suit. In fact, calling the book a continuation is a bit of an understatement. It actually starts with one of the final scenes from Enemy at the Gates but is rewritten from Mitch's point of view.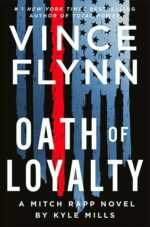 Originally, Enemy at the Gates was intended to begin a three-book arc about the fall of America's democracy. Mitch has faced unscrupulous politicians before, but this time it would be different. Instead of one or two, it would be dozens—all working in concert to undermine our freedoms and transform our system into something resembling that of Russia or Iran.
Top Faqs on Kyle Mills
What is the birth date of Kyle Mills?

Kyle Mills was born on 21 March 1966, he is good at writing political thrillers.

Which is the last released book by Kyle Mills?

"Enemy at the Gates" is the last released book by Kyle Mills from Mitch Rapp series, it was launched in 2021.

Which is the upcoming book by Kyle Mills?

"Oath of Loyalty" is the upcoming book by Kyle Mills which will be launched on September 13, 2022. It will be the 21st book of Mitch Rapp series.
Read more from the book in order
Have you read Kyle Mills's books and novels? Leave your thoughts and comments below.