Marie Benedict Books In Order – If you are a fan of novels that show females as heroic characters with a unique storyline that shatters all the stereotypes made by this patriarchal society, then Marie Benedict Books must be a part of your reading.
Marie Benedict is an author who is mainly focused on discovering the role the females played in past times in inventions, world wars, and so on. She finds out the links and the character and brings it out for the readers in the present time to make their contribution acknowledged by us.
Let's get started with the Marie Benedict Books in Order to dive into the historical events and the connection.
Biography of Marie Benedict
You will be surprised to know that Marie Benedict was not the original name given by her parents. Earlier she was known by the name 'Heather Benedict Terrell,' born on November 24, 1968, in America. Marie Benedict is the pen name she uses to write her novels.
She was a well-known lawyer in two of the county's firms for ten years, working in New York City for Skadden, Arps, Slate, Morrison & Foerster, and Meagher & Flom. She changed her profession from a litigator to a full-time writer after the success of her first novel,' The Chrysalis.'
Currently, she resides in Pittsburgh with her husband, Jim Terrell, and sons, Jack and Ben.
Marie Benedict completed her schooling at Upper St. Clair High School, Pittsburgh, and graduated from Boston College and Boston University School of Law.
Her most recent novel, which was published in 'Her Hidden Genius' on January 25, 2022, received appreciation from the Financial Times, New York Journal of Books, and many more. Every time comes with a new heroic character whose story has been untold to date.
Marie Benedict is named to the Library Reads Hall of Fame, and her book 'The Only Woman in the Room' is a New York Times bestseller, Barnes & Noble Selects, named among Bustle and Marie Claire's best books of 2019.
Let's find out the Marie Benedict Books in order and understand the style and how fantastically she narrates the historical events.
Publication Order of Standalone Novels
| Book Title | Publication Year | Buy at Amazon |
| --- | --- | --- |
| The Other Einstein | (2016) | Buy Now |
| Carnegie's Maid | (2018) | Buy Now |
| The Only Woman in the Room | (2019) | Buy Now |
| Lady Clementine | (2020) | Buy Now |
| The Mystery Of Mrs. Christie | (2021) | Buy Now |
| The Personal Librarian(With Victoria Christopher Murray) | (2021) | Buy Now |
| Her Hidden Genius | (2022) | Buy Now |
Top 5 Best Marie Benedict Books In Order
Here, we go with the books in order by Marie Benedict along with the latest novel published.
1] The Other Einstein (August 29, 2017)
You are aware of Albert Einstein and his inventions and theories as well. Einstein is the most intelligent person with the highest IQ that the world has ever seen. But, can you think of how he managed to give so many theories and invent things? Was there anyone to assist him in his inventions?
The answer to these questions is here in the novel written by Marie Benedict with deep research. The Other Einstein story is about a female character 'Mileva Maric' who is clever and different from other girls. When other girls in his marriage were getting married, she found a path to study, and math was easier for her.
In that male-dominated society, it was not an easy task to study at Zurich university with male students. Due to her interest in Math, Albert Einstein takes an interest in her and gets into marriage. The author has tried to show how Einstein's first wife, Mileva, contributed to the Theory of Relativity which is still a controversial topic to date.
Readout 'The Other Einstein' to know more, whether it is a fictional one or a real work with facts!
2] Carnegie's Maid (October 2, 2018)
This novel starts with a maid, Clara Kelley, who is a daughter of a poor farmer. She is inexperienced and doesn't know the etiquette and required skills to work as a maid in one of the grandest Pittsburgh households.
The Employer or lord Andrew who is an industrialist is unaware of the truth that this Irish maid Clara knows nothing. She finds it uneasy about revealing the truth. As time passes, Andrew becomes more than an employer, but still, Clara has not revealed herself. Will she tell the truth? What will be Andrew's reaction?
Well, it's a story of the world's first philanthropist, how he became a ruthless industrialist!
Dive down into the Carnegie's Maid book and get to know the truth from Irish maid Clara Kelly.
3] Lady Clement (July 7, 2020)
World War and Winston Churchill are relevant to each other. Whenever we peep into the history of World War I and World War II, we find out the crucial role played by Winston Churchill.
'Lady Clement' by 'Marie Benedict' is set in the period of World War and is second in the Marie Benedict Books in Order.
It's a story of Clement Churchill, wife of Winston Churchill, and her heroic deeds. The novels begin with Lady Clement stepping off a train with her husband, and suddenly an angry woman attacks her husband from the crowd. Clement immediately takes charge and shoves the woman in the direction of the coming train.
In this novel, the author has unfolded Lady Churchill's actions to save her husband not once but always whenever the time needs. She has been portrayed as a fierce lady who is brilliant and ambitious, standing side by side with Winston Churchill and always ready to take charge of the action.
Find out more about What Lady Churchill has done in the Lady Clement book!
4] Her Hidden Genius (January 25, 2022)
There are certain cases where females have done so much work, and men took the credit. Here is the third in the Benedict Books in Order, i.e., 'Her Hidden Genius' by 'Marie Benedict' is such a novel, with all the facts and evidence where she unfolds the – Double Helix structure of DNA with all her perseverance and hard work but the credit was taken by the three men who were awarded Nobel Prize later.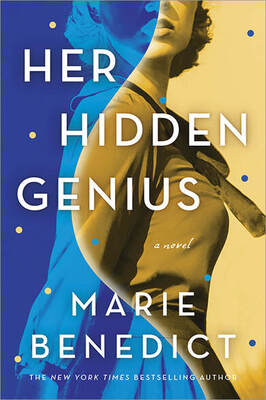 In this novel, the author has presented it with a feminist perspective where she shows how this male patriarchal society suppresses talent and is always ready to eat them up.
Here, in 'Her Hidden Genius,' you will get to know how things are turned and the real one behind the double helix structure of the DNA, which we read about today.
5] The Mystery of Mrs. Christie (October 5, 2021)
The Name 'Agatha Christie' is more than enough to let readers understand why the name is so valuable. She was the writer of the Golden Era of detective stories. Well, you know a lot more about Agatha Christie as a writer and novelist as well.
Here, in this book, the author gives a glimpse of what we don't know, i.e., when Agatha Christie went missing for eleven days in December 1926.
Read this novel that is one of the best collections in the list of Marie Benedict Books in Order. If you are a fan of detective stories, then end up reading them to know what happened to Agatha Christie!
Conclusion – Marie Benedict
You will observe that most of the Marie Benedict Books in Order focus on the untold story of the women who have played a crucial role in historical events. The author has also written a few novels by the name 'Heather Terrell,' which is also phenomenal. If you love to read fiction, historical events, and thrillers, then Marie Benedict Books must be there on your list.
Top Faq on Marie Benedict
Who is Marie Benedict?

Marie Benedict is a lawyer with more than ten years of experience as a litigator at two of the country's premier law firms, who found her calling unearthing the hidden historical stories of women.

Her mission is to excavate from the past the most important, complex, and fascinating women of history and bring them into the light of the present day where we can finally perceive the breadth of their contributions as well as the insights they bring to modern-day issues.

Which is the latest book by Marie Benedict?

Is Marie Benedict a real name?

Heather Benedict Terrell (born November 24, 1968) is an American novelist and lawyer who writes some of her novels under the pen name Marie Benedict.
Read more from the books in order
Have you read Marie Benedict's books and novels? Leave your comments and thoughts below.