Asa Akira Books In Order – For adding flavor to your romantic life, if you want to read something sensational and erotic, Asa Akira books in Order will be a great addition to your erotic collection.
Asa Akira is an American pornographic actress who worked in more than 505 adult films and established herself as a sensational star in the industry.
She has hosted different TV shows and programs that have become hits for viewers. She does not only limit herself in acting but takes her pen to elaborate on her attachments, experiences, and journey to the readers so that they can see the real Akira.
Her writings truly depict the world of porn and her passion for working for the porn industry. So, if you want to know Asa through her writings, you should read her books that are also famous, like her other works. So let's know about her life, writings, and journey in detail.
Asa Akira – Early life & Achievements
Asa Akira was born on January 3, 1986, in Manhattan, Newyork, and is known as a Japanese American and pornographic actress. She won various awards for acting and directing adult and sensational movies. After Asia Carrere and Stephanie swift, she is the third actress who won the AVN female performer of the year award.
Akira hosted the 1st and 2nd ceremonies for the porn hub awards. Besides it, Akira received various awards nominations for her role in the 2009 film pure; she also won the AVN female performer of the year award and hosted the 1st and 2nd porn hub awards. In a nutshell, as a performer, she has been a big name in the entertainment industry.
Now let's move toward her books, where she describes her life journey as a woman.
Asa Akira's Books in Order
Sensational videos do not showcase the real self of a person. It only sticks to certain aspects of life pleasures, and that's the reason Asalife's Akira has decided to express her real thoughts through her writings.
An insatiable, dirty thirty, Asiatica, these are the three books where she has vividly and beautifully described her emotional journey as a porn star. 
So let's have a look at these popular Asa Akira books in detail.
Insatiable: Porn A Love Story
Insatiable was her first book that was published in 2014 and gained a lot of success among the readers. The book is divided into different chapters, and through these chapters, the readers will get the hilarious, touching, and shocking story of the popular porn star and the true picture of the porn industry.
The book not only describes the others but her own family as to how she visited new Hamshire, where her mother and brother run a sex store.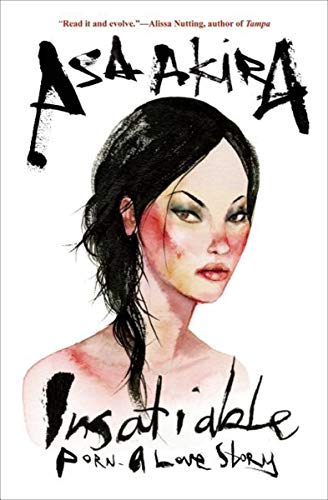 Through this creation, she became the articulate voice of the industry which explains the real story from the inside and the feeling of the stars. In the first Asa Akira book In Order, she wonderfully explains the importance of sex and how its cast impacts our lives.
So if you want to know about the different layers of human psychology and course the life of an adult star, pick this book for your next read. 
Dirty Thirty
The second book Dirty Thirty Once again opens secrets about the porn industry and the reality of the sensation. On love, sex, death, marriage, and celebrity, she has put all her thoughts straightforwardly but in funny manners; without trying to present herself as a perfect lady, she has given a depth look into her life.
Here in this book, she also describes her relationship and marriage with her boyfriend, fellow porn star, Toni Raba. The book depicts all the ups and downs of the human mind and how it deals with the adverse condition of life.
So, it will be a great pleasure to read this book as your next reading.
Asarotica
Published in 2017, Akira once again reveals the reality of the porn world and the lives of adult stars. Here in this book Asarotica, you will get the collection of erotic short stories told by other porn stars like Nina Hartley and Asa Akira herself.
So if you want to get the unexpected pleasure to read this eye-opening, authentic, and arousing 22 adult short stories by Asa Akira, I agree with a few stories from this book, but you should forget about the other mesmerizing stories, especially on weekends!
Wrapping Up – Asa Akira
So, here you read full details about Asa Akira and her creations that are full of sensational stories and eroticism. Reading about life experiences always adds learning to your personality, and while reading Asa Akira Books In Order, the reader gets to know about the new world and its experiences.
So, look at the emotional side of the famous and sensational stars through Asa Akira's erotic literature that's not only for your fantasies your imagination but takes you towards the real picture of the porn world.
Top Faq on Asa Akira
What is the real full name of Asa Akira?

Asa Akira's full name is Asa Takigami.

What is the date of birth of Asa Akira?

Asaa Akira was bron on 3 January 1986.

What is the height of Asa Akira?

Aka Akira's height is 1.57 m

What is the nationality of Asa Akira?

Asa Akira has dual nationality. She is American and Japanese both.
Read more authors like Asa Akira
Have you read Asa Akira's books and novels? Please leave your comments and thoughts about them below.