Jeremy Bates Books In Order – If you are an avid reader and want to add some mysterious fiction to your library, then the Jeremy Bates Books will be your correct choice. Jeremy Bates is a Canadian/Australian author who writes and explores the dark side of human nature in his suspense and horror fiction.
Jeremy Bates Quick Biography
Born in 1978, Bates is currently residing in Gold Coast, Australia. He completed a Bachelor of Arts in English Literature and philosophy. He also has a Graduate teaching Diploma from Charles Darwin University, Australia.
Jeremy is a bestselling author on Amazon and USA Today. He has written more than twenty novels and novellas, which have been translated into many languages and adapted for many films and serials as well.
Jeremy Bates is a traveler by nature. He has spent most of his years traveling the world, more than thirty countries! And that is the reason we find world-class terror in his novels.
Awards And Recognition of Jeremy Bates
Jeremy's books deal with suspense and horror fiction that represents the darker side of human nature. "World's Scariest Places Downsizing", "Midnight Bookclub", and "World's Scariest Legend" are some of his best series that drew readers' attention and won many awards and recognition.
In the year 2018, Jeremy Bates achieved "Reader views literary awards" for the mountain of the dead. His other work, 'Island of the dolls,' got 'foreword indies horror book of the year' Award In the year 2016. In the same year, he was also awarded by crime writers of Canada FOR BLACK.
Jeremy Bates Books In Order of Publication
This edition of the novel Includes one and two books in the bestselling world's scariest place series. The first novel series are; Suicide Forest. The story is all about outside Tokyo lies Aokigahra that is one of the most attractive places in Japan. That is a notorious place for committing suicide.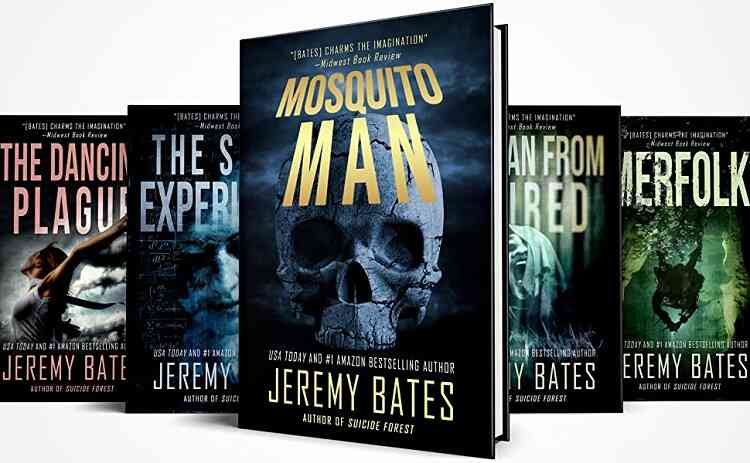 Bates described in his novels how the spirits are roaming and haunting in the deep. His debut novel "White Lie" was a frightening novel where the setting is in a small village in Eastern Washington.
World's Scariest Places By Jeremy Bates
Downsizing Series
Other Novels By Jeremy Bates | Standalone novels
Some terrifying short novels of suspense
A Horror Anthology
Jeremy Bates Top Books Excerpts
Let's see some shoot excerpts for the Jeremy Bates famous books and novels.
White Lies
White Lies is one of the most famous Jeremy Bates Books In Order. It is a suspense story that will keep your interest from beginning to end. The character protagonist of the story is portrayed scarily. Like other characters, those are identifiable.
Katrina, the protagonist of the story, tucked away deep in the cascade mountain where she started work as a teacher. She picks up a young hitchhiker who turns out to be a drunken man. Katrina is worried about her safety and lies about her destination to get rid of him. But when she gets to know that he is the teacher of the same school, her fear increases twice, and she realizes she should not lie more to hide one.
Her journey of lies becomes more complicated when she meets jack Reeves, and the suspense will bind you throughout the story. So, if you want to plunge into his writings, get this Jeremy Bates book. This novel also got a thriller and suspense book of the year award in 2012.
The Taste Of Fear
Falling into the same horror series, The Taste of Fear can be considered an exhilarating and never-ending thrill ride. If anyone is a diehard fan of a good thriller, he/she must have this book.
The suspense of the story is American movie star scarlet Cox and her husband Salvador Braze, who was a hotel tycoon. They needed help when their money and passport were robbed. Now the whole story is about their journey when they were taken to hostage and whisked across the border deep into the Congo.
The Taste of Fear story will grip your interest from start to end. This Jeremy Bates Books In Order is not only about the taste of the delicate balance of a fragile marriage but you will also learn, how a careless decision is made in heated moments. It will give you the element of challenge and excitement with the emotion of realism and emotion.
Islands Of Dolls (2016)
Written in the year 2016, Islands of Dolls is a horror, fiction, thriller, suspense, and ghost story. During the recording of a documentary film "Deep within an Ancient Aztec", several unit members and friends discover a brutal murder, and strangely. This fear and panorama turn them against each other. An unknown killer also stalked them throughout the story that binds the reader's attention.
The whole plot, even the subplots, is prevailed by the elements of fear, suspense, and murder mystery. Reader if you are lovers of reading ghost stories and suspense thrillers novels, will surely enjoy this story.
Suicide Forest (2014)
Its psychological suspense novel is based on the theme of Suicide Forest. James writes a mystery and suspense story that sets just outside of Tokyo lies. Aokigahra, a vast forest that is easy to enter but almost impossible to leave. And this place is infamous for committing suicide.
But unfortunately, bad weather stops a group of friends from climbing the neighborhood mountain. And they decided to spend the night campaigning, but fear takes its original form when one of them is found dead.
The narration of the story 'Suicide Forest' is amazing as it's not scary but full of thrillers and can be said a stand-alone novel.
Final Thought – Jeremy Bates
Reading a crime and suspense thriller makes the mind alert and rekindle curiosity. The elements of critical thinking also increase that always train our minds to solve problems. Jeremy Bates books in order will also add fuel to entertainment and curiosity if you pick them for reading. So, these books and novels are a must-have collection in your mysterious library book.
Some top faq about Jeremy Bates
Which is the upcoming book of Jeremy Bates?

Which all genres have been covered by Geremy Bates?

Jeremy Bates has written his books in horror, suspense, thrillers, science fiction genres mostly.

What is the birth date of Jeremy Bates?

Jeremy Bates was born on: 8 July 1978, in Toronto, Canada.
Read more such authors from "the books in order"
What do you think about Jeremy Bates and his horror stories? Leave your comments below.