Nicholas Sparks Books In Order – Nicholas Sparks, is a worldwide famous American writer, novelist, scriptwriter, and humanitarian. Nicholas Sparks is not his original name; his full name is Nicholas Charles Sparks.
Nicholas Sparks Biography | Writing Career
Nicholas Sparks Novels, Books, and writings are best known because of the romance in his writings and heartbreaks. Sparks started writing while doing his job; he completed his graduation in the business field and got many jobs. After that, he settled in New Bern with his family in the early 1990s. Nicholas Sparks books are popular in all whole of mankind.
Nicholas Sparks's mother suggested him write and he started writing along with his day shift work. He began as a writer when he was nineteen. He wrote a novel, The Passing, which was never published.
However, he built self-confidence and wrote again in 1989, The Royal Murders; this novel is also not published.
He spent quality time on improving his writings and began a partnership with Billy Mills (the first American who won a gold medal in the Olympics) and wrote a book that is inspired by a Native American legend. He published Wokini: A Lakota Journey to Happiness and Self- Understanding in 1990. 
To reach their writing peak, Nicholas Sparks exhausted several months and profoundly understands the key points of writing. After that, he published his first novel, The Notebook, a romantic book, a story based on true love and the miracles of love. In 1996, the first week of the novel's publication was released in the bestseller list of The New York Times. The Notebook is one of the best novels by Nicholas Sparks Novels.
Nicholas Sparks novels also got many offers from the cinemas, and movie stories are made based on his novels. Sparks 11 novels are diverted into films. It started with Message in a bottle; in 1999, and the latest one was The Choice in 2016.
His writing reflects sad love stories and not a happy ending, and because of these things, he is famous, but he disapproves of a romantic writer or novelist's claims. Apart from the Notebook his 15 more books are on the bestseller list and have No1 booksellers also at the international level. He is an inspiration for many young buds who want to be successful writers; Nicholas Sparks's experiences taught him a lot and became an inspiration for others. 
Nicholas Sparks Books In Order
He is following Roman Catholicism and his writings and ideas are a reflection of it. Nicholas publishes much literacy rooted in the Catholic faith.
However, Nicholas Sparks has published 20 books so far, and now he is going to launch his 21st Novel, The Return, in 2020.
Publication Order of Calhoun Family / Notebook Books
Publication Order of Jeremy Marsh & Lexie Darnell Books
Publication Order of Nicholas Sparks Standalone Novels
Publication Order of Non-Fiction Books
| Book Title | Year | Buy at Amazon |
| --- | --- | --- |
| Wokini (With Billy Mills) | (1990) | Buy Now |
| Three Weeks with My Brother (With Micah Sparks) | (2004) | Buy Now |
Publication Order of Anthologies
| Book Title | Year | Buy at Amazon |
| --- | --- | --- |
| Reader's Digest: Today's Best Fiction | (2014) | Buy Now |
 List of Nicholas Sparks books in order
Wokini (non-fiction 1995)
The Notebook (1996)
Message in a Bottle (1998)
A Walk to Remember(1999)
The Rescue (2000)
A Bend in the Road (2001)
Nights in Rodanthe(2002)
The Guardian (2003)
The Wedding (2003)
Three Weeks With My Brother (non-fiction 2004)
True Believer (2005)
At First Sight (2005)
Dear John (2006)
The Choice (2007)
The Lucky One (2008)
The Last Song (2009)
Safe Haven (2010)
The Best Of Me (2011)
The Longest Ride (2013)
See Me (2015)
Two by Two (2016)
Every Breath (2018)
The Return (expected in late 2020)
The Wish (2021)
Dreamland (2022)
Nicholas Sparks Latest Book – Dreamland
In Nicholas's words –
Dreamland will be his twenty-third novel, and I can tell you that I found writing it to be just as much of a pleasure as writing my first novel, The Notebook, back in the mid-90s. Throughout all these years, each story has introduced new, interesting characters with their own unique strengths and challenges and Dreamland is no exception. I'm incredibly excited for you to meet Colby, Morgan, and Beverly.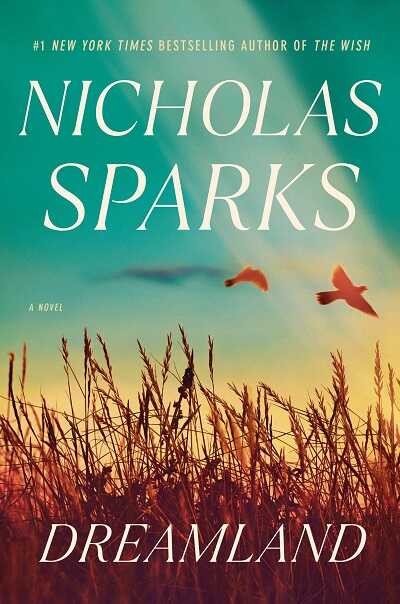 At first, these three characters seem completely different from one another but as their stories unfold, deep similarities become apparent and fate draws them together in ways that are … difficult to describe without giving too much away!
You can find out more about Colby, Morgan, and Beverly on the Dreamland page of my website along with a list of online retailer links where you can preorder your hardcover, audiobook, or ebook edition of Dreamland today.
You'll be hearing from me again in the coming months with exclusive previews of Dreamland, opportunities for you to enter to win some great summer and fall reader giveaways, and where I'll be stopping on my book tour in September. Until then, I wish you all the best for a happy and hopeful spring
Top faq on Nicholas Sparks
Who is Nicholas Sparks?

Nicholas Charles Sparks is an American novelist, screenwriter, and philanthropist. He has published twenty-two novels and two non-fiction books, some of which have been New York Times bestsellers, with over 115 million copies sold worldwide in more than 50 languages

What is the date of birth of Nicholas Sparks?

The date of birth of Nicholas Sparks is 31 December 1965.

Which is the latest book by Nicholas Sparks?

"Dreamland" is the latest book by Nicholas Sparks which is released in September 2022.
Read more authors like Nicholas Sparks
Have you read Nicholas Sparks books & novels? Leave your thoughts & comments below.