Monica Mayhem books in order consist of an autobiography of famous former pornstar Monica Mayhem. Monica is a multitalented artist who is incredibly well-known and donned many awards in her cap.
Who is Monica Mayhem?
Monica Mayhem was born in Queensland, Australia, in 1978. She had a rough start in life. To support herself financially, she started working at the age of 14. After two years, she moved to Sydney to begin her career in the financial industry.
Monica Mayhem – Career | Awards
After working in the financial sector for six years, she moved to London as she loved traveling. London seemed to be a better choice for her. She started working in IPE broking. While working in the trading sector, Monica felt exhausted and burnt out. So she decided to quit her job and started performing as an exotic dancer and began her career as a nude model. 
While working in one of the clubs called The Spearmint Rhino club, to get herself to Los Angeles, she dared her owner to take her on one of his trips. After coming to the city of angels, she felt alive, and there was no stopping her. She acted in numerous music videos, TV shows, and some mainstream movies. Her remarkable performances got her a role in the famous Sex and the city movie.
After working mainstream for a while, she reclaimed her position as a famous adult movie star. She was featured in over 400 adult movies and magazines. She grabbed several industry awards like XRCO's Best New Starlet, FOXE's Vixen of the Year, KSEXRadio's Hottest Radio Babe, etc. Monica was also nominated for the Adult Feature Entertainer of the Year in 2009.
Monica has also collaborated with Pipedream Products and owns an exclusive line of adult toys.
2008 brought Monica another recognition as she into the 'Hall of Fame' at the Erotic Museum in Las Vegas. Apart from acting in Adult movies, she is also a singer and songwriter for an all-girl metal band called Sweet Avenge. In 2010, she declared her retirement from her acting career. 
Monica Mayhem Books in Order
Everyone who enjoys reading erotic novels will find different reading experiences in Monica Mayhem Books In Order. An established adult movie star, Monica Mayhem wrote about her life experiences as a pornstar in her autobiography, Absolute Mayhem: Secret Confession of a Porn Star.
Monica intended to show us the daily life activities in the life of a porn star. She unapologetically wrote about some behind-the-scenes experiences while working in the adult movie industry. She shared her journey to come to the big city – Los Angles, and establish herself as a strong entertainer.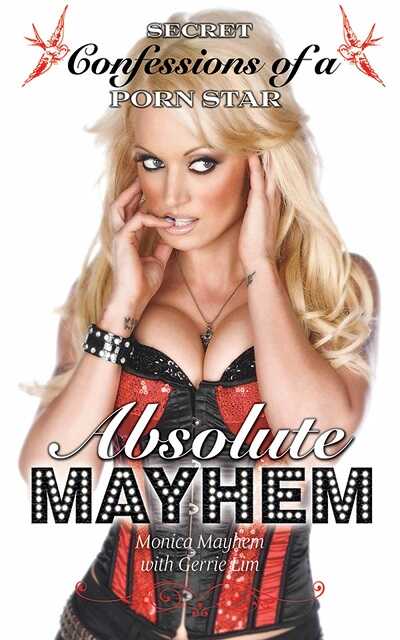 Monica also remembers being taunted for her big eyes during her school days. But they became her asset when she entered the movie industry. She also shared her early troubled childhood days and how she overcame her financial insecurities by working in the financial and trading sector before joining the glamour world.
Other Books On Amazon By Monica Mayhem
Conclusion – Monica Mayhem
Monica Mayhem's book in order is an autobiography of a pornstar. Reading will give its readers insights into an adult movie star's life and daily activities. Struggle, hard work, and dedication are required to succeed in any industry.
Monica Mayhem penned down her journey and experiences in her beautiful autobiography.
Top faq on Monica Mayhem
What is the full name of Monica Mayhem?

The full name of Monica Mayhem is "Caroline Pickering".

What is the date of birth of Monica Mayhem?

The date of birth of Monica Mayhem is 14 March 1978.
Read more authors like Monica Mayhem
Have you read Monica Mayhem's books & novels? Leave your thoughts and comments below.