Ruth Cardello Books in Order – "Love is a verb, not a noun"; if you really want to feel this famous love quote around, I think you must plunge into Ruth Cardello's books. Her novels always create an atmosphere of love and its different dimensions.
After reading her novels you are definitely going to believe the concept of opposite attractions as most of her leading characters possess opposite traits yet are in love. 
About Ruth Cardello
Born in Woonsocket, Rhode Island Ruth Cardello was a teacher by profession for 20 years but she turned serious eyes towards writing when her school district began cutting jobs.
She was the youngest child of her Parent and sister of great author Jeannette Winters. She lived in Boston, Paris, Orlando, and New York but now she is living on a small farm in Massachusetts with her husband, three children, and some pets. 
Ruth Cardello is a well-known American novelist who writes romantic contemporary novels which is the largest subgenre of romantic novels and delivered many hit series of novels. She started working in the field of writing in 2011 and almost 58 novels have been published now.
Most of her novel series are highly successful and are among the bestselling novels and hit the bestsellers list for the first time in 2012. Some of her famous novel series are Legacy collection, Westerly Billionaire, The Barrington Billionaires, The Andrades, and many more. 
Ruth Cardello Books In Order of Publication
She has gained a great and faithful fan following of readers who love her tremendous combination of escapism and realism. Some of her characters show these traits perfectly.
I have picked her best books to discuss so that you can get glimpses of her thoughts and the way of her profound writing.
Publication Order of Andrades Books
Publication Order of Bachelor Tower Books
Barrington Billionaires Book Series in Publication Order
Publication Order of Corisi Billionaires Books
Publication Order of Legacy Collection Books
Publication Order of Lone Star Burn Books
Publication Order of Temptation Books
Publication Order of Texan Nights Books
Publication Order of Westerly Billionaire Books
Publication Order of Standalone Novels
Publication Order of 7 Brides For 7 Brothers Books
Publication Order of Left At The Altar Books with Melody Anne, Raine Miller
Publication Order of Taken By A Trillionaire Books
Publication Order of The Lost Corisis Books
Publication Order of Anthologies
The Switch Book Series in Publication Order
Ruth Cardello Top Books and Novels
Let's have a look at Ruth Cardello's few top book summaries.
Out of Love 2022 – The Switch Book
Laughter and sparks set the stage for a fun romance from New York Times bestselling author Ruth Cardello about a farmer who switches places with his business-savvy twin brother and falls in love with the daughter of his brother's biggest client.
I just found out I have an identical twin. I'd love the idea if he wasn't an arrogant, overconfident businessman who is determined to save my farm even though I'm in no danger of losing it. When I agreed to switch lives with him, it was supposed to be for a couple of hours.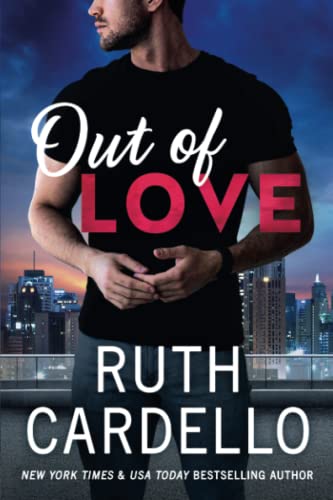 I was told to lie low, meet no one, and let him deal with the oil company that was sniffing around my property. I agreed to the switch only because it was the first time since we'd met that my twin had shown interest in my life, and I hoped it would give us a better understanding of each other.
Hours drag into days. I consider our initial agreement void and head to his office. I'm sitting at his desk, mostly minding my own business, when a beautiful woman blusters in, ready for a confrontation with my brother about an email. She's the daughter of my brother's largest client.
I only flirt with her to make her smile. What could it hurt to pretend to be my brother just a little longer?
I didn't expect to uncover a plan to sabotage my brother's company. I don't want to believe that the woman I can't get out of my thoughts and would love to get into my bed has anything to do with what I've discovered.
Save the company.
Save the girl.
Maid For The Billionaire
This is her first self-published book from her first novel series and started her journey in the romance series. This novel series from Ruth Cardello's books in order also feature alpha males. This is the love story of Dominic and Abby with whom Dominic does not want any commitments or problems but sex.
After the death of his father, he meets Abby and takes her to China and there both of them unfold the layers of their relationship. I can't go forward without mentioning a few lines from this novel that shows the reality of life: "We all have control over what kind of person we are. Each word that comes out, each action that we take, defines us".
Home To Me
Published in 2014 in her famous series The Andrades, this story is about Nick Andrade and Rena Sander. Both of them were completely different from each other. Nick was a sexy charming, bad boy and Rena was confident, caring, and a woman of principles. This novel is really page-turners' unique and heart-wrenching. Cardello has beautifully created an atmosphere of love between two different personas and how it sustains. 
Stolen Kisses
Published in 2016, this story is about Dax Marshall, a businessman, who was called heartless by many people and Kenzi. This novel takes on the journey of how simple attraction turns into friendship and how the two lovers define their way of love.
Reluctantly Alpha
Relates from the series of Billionaires Reluctantly Alpha is again a wonderful love story of Connor Sutton and Angelina. Cannon who is a man of simple pleasures suddenly got fame and fortune as his sister gets married to a rich man. Ruth has drawn a picture of serenity through the relationship between Angelina's son and Cannon. No one can forget the reliable lines of the novel: "There were two things no one could take away a person: a good education and their dignity "
Maximum Risk
Beautifully woven a man-woman relationship story once again we can say it. Through the characters of Tara Homes and Max Ruth have presented a story of two people who are completely different from each other yet in love. Though the realization of real love comes gradually in their behavior undoubtedly it is a must-read comes from her famous series The Andrade.
Never Goodbye
It is a book no. 7 from the Barrington Billionaires series. The characters of Ian and Claire give us heart tingles sometimes. If you are a romance lover, must read this book. In a nutshell, I can say it's a story of family and forgiveness, funny but sad sometimes. This story has all the elements of entertainment so add this definitely to your library.
So, if you always want to feel love in the air and create a loving atmosphere around you, must read some famous Ruth Cardello books in order. Also, you can recommend your life partner to read the same. You will learn the art of loving the people and your soul by creating a positive environment.
Top Faq on Ruth Cardello
Also, read these top authors
What is your opinion on Ruth Cardello's Books and Series? Leave your comment below.