Lisa McMann Books in Order – Are you a big fond of book reading of paranormal or dystopian genres? Then go with Lisa McMann Books.. Apart from these two genres, she also wrote books for adults and one such series is Wake. Her most famous book series is the Unwanteds that is a dystopian category.
Lisa McMann currently lives in Sacramento, California, and writes the books from there. Her native place is Holland, Michigan where she was born and stayed there till 2004. She got married to Matt McMann who is a writer and a musician. Lisa has two adult children, the son's name is Killian and by profession, he is an artist while the daughter, Kennedy is an actor.
After leaving Holland with her family, she moved to Arizona and further moved to Sacramento. She loves to write books on fantasy, fiction, paranormal, and dystopian categories. Till so far, she has written a dozen of novels and each of them is outstanding.
Lisa McMann Books in Order of Publication
Lisa McMann wrote several books on various genres, each book on the series is outstanding just because of the storyline and the suspense. She knows the pulse of the readers very well, so she crafts the characters and story so that the readers can get a deep impact.
Publication Order of Unwanteds Book Series
The "Unwanteds book series" is based on the magical world and the Quest of the adolescent in Quill. The book was highly in demand because of the amazing story and the portrayal of characters. The list of books enclosed in the Unwanteds series is listed below that will help you to read the same in a sequence manner.
Publication Order of The Unwanteds Quests Books
The book series consists of 7 books and each one of them has an amazing storyline. The story has many new characters, such as Aaron and Alex's younger identical twin sisters, Fifer and Thisbe.
Both the girls are gifted with magical powers and the story revolves around how these girls help their brothers to defend their kingdom. Alex is ruling Artime and Aaron is ruling Quill, both of them face the major threat from the common enemy, i.e., Dragons.
Publication Order of Wake Series
The Wake book series is about Janie who can pierce the dreams of others. But she can't tell anyone about this ability as people will think she is a crazy girl. But soon she met with Cabel and found that he is the one with whom she can share about the Dream Catcher ability.
The wake series comprises 3 parts, i.e., Wake, Fade, and Gone, and each of them is outstanding just because of the dreams.
Lisa McMann Books in Order consist of Visions book series and Going Wild. The former comes with 3 books, i.e., Crash, Bang, and Gasp. However, the latter book series contains 3 books, named, Going Wild, Predator Vs Prey, and Clash of Beasts.
Publication Order of Visions Books
Publication Order of Going Wild Books
| Book Title | Publication Year | Buy on Amazon |
| --- | --- | --- |
| Going Wild | (2016) | Buy Now |
| Predator Vs Prey | (2017) | Buy Now |
| Clash of Beasts | (2018) | Buy Now |
Publication Order of Standalone Novels
| Book Title | Publication Year | Buy on Amazon |
| --- | --- | --- |
| Dead to You | (2010) | Buy Now |
| The Missing / Cryer's Cross | (2011) | Buy Now |
Publication Order of Infinity Ring Books
| Book Title | Publication Year | Buy on Amazon |
| --- | --- | --- |
| A Mutiny in Time (By: James Dashner) | (2012) | Buy Now |
| Divide and Conquer (By: Carrie Ryan) | (2012) | Buy Now |
| Divide and Conquer (By: Carrie Ryan) | (2012) | Buy Now |
| The Trap Door | (2013) | Buy Now |
| Curse of the Ancients (By: Matt de la Pena) | (2013) | Buy Now |
| Cave of Wonders (By: Matthew J. Kirby) | (2013) | Buy Now |
| Behind Enemy Lines( By: Jennifer A. Nielsen) | (2013) | Buy Now |
| The Iron Empire (By: James Dashner) | (2014) | Buy Now |
| Eternity (By: Matt de la Pena) | (2014) | Buy Now |
Lisa McMann Other Famous Books
Including authors as varied as Lauren Kate, John Scieszka, Alyson Nöel, Lauren Oliver, Mo Willems, this is a timely and moving collection of personal stories about bullying.
All proceeds from the sale of this book go to charity to fight against bullying.
Kendall loves her life in small town Cryer's Cross, Montana, but she also longs for something more. She knows the chances of going to school in New York are small, but she's not the type to give up easily. Even though it will mean leaving Nico, the world's sweetest boyfriend, behind.
But when Cryer's Cross is rocked by unspeakable tragedy, Kendall shoves her dreams aside and focuses on just one goal: help find her missing friends. Even if it means spending time with the one boy she shouldn't get close to… the one boy who makes her question everything she feels for Nico.
Determined to help and to stay true to the boy she's always loved, Kendall keeps up the search–and stumbles upon some frightening local history. She knows she can't stop digging, but Kendall is about to find out just how far the townspeople will go to keep their secrets buried…
A powerful psychological thriller with a shocking twist from the New York Times bestselling author of the Wake trilogy.
Ethan was abducted from his front yard when he was just seven years old. Now, at sixteen, he has returned to his family. It's a miracle…at first. Then the tensions start to build. His reintroduction to his old life isn't going smoothly, and his family is tearing apart all over again. If only Ethan could remember something, anything, about his life before, he'd be able to put the pieces back together. But there's something that's keeping his memory blocked. Something unspeakable…
You can find a short story by Lisa in the anthology Foretold, edited by Carrie Ryan and featuring stories by such authors as Richelle Mead, Michael Grant, Meg Cabot, Laini Taylor, and many others of the finest YA authors writing today.
Lisa McMann Top Books Summary
The Unwanteds
The story starts in a Quill where the 13-year-old adolescents were categorized based on intelligence. The strong and intelligent adolescents are termed as Wanteds and they are eligible for college. The other left group, i.e., artistic are termed as Unwanteds and they are forced to send to graves.
Two twins, Alex and Aaron were in a deep dilemma about their sorting, and finally, the day arrived. Aaron came in the Wanteds category and Alex in the Unwanteds. Alex and his associates were worried about what was happening in the grave. But soon, they discovered a Magician, named Mr. Today and his hidden world where they can save their lives. Will Alex and his associates get success in their aim? The answer to this question is provided in The Unwanteds Book.
The Silence
The plot starts after the conclusion of the first book, now the Wanteds, Unwanteds, and the Necessaries have an option to choose where to live, either in Artime (magical world), or in the Stark of Quill.
Alex and his companions continue to practice the magic in the Artime for welcoming the guests. On the other side, Aaron staying in Quill got defeated by Justin, is angered and is seeking to blast the rage towards Alex. The two different stories collide and everyone is in a dilemma to know about the future of the two worlds.
Island of Fire
Artime is in great danger because the Unwanteds are not getting any food, water and also lost all the hope. But Alex knew that he needed to do something to save their friends and to change the fate of Artime.
On another side, Aaron is building his army on Quill to take revenge against Alex. But the twins were not aware that someone is waiting for them and this is the major twist in this book. Will Aaron & Alex fight together against the common enemy or they will fight against each other? What will be the future of Artime and will Unwanteds lead a dignified life?
Island of Legends
Alex is now more confident with the magic powers and using the same he brought a wonderful and amazing creature into the world. Now, the Unwanteds are on a mission to free sky and crow's mother from the Pirate Island. The beautiful island is surrounded by some friendly and some enemy creatures.
Meanwhile, in Quill, Aaron is increasing his power and also discovered a hidden jungle that contains secrets. Moreover, he is also facing a challenge from Gondoleery and Aaron needs to prove himself to safeguard his leadership.
Island of Shipwrecks
The dangerous storm broke the ship and as a result, Alex and his friends reached a new island. On this island, they discovered that they are not alone as many more creatures are here and they need to fight against them.
In Quill, Aaron has made its base much stronger through allying and now they want to conquer Artime. The conquering plan is more dangerous as it may result in a severe impact on the lives of the people of both the world.
Island of Graves
In this book, there is a tough fight between Alex and Aaron to rule the Artime and Quill. Who will get the success and what all challenges they will face? To get the answers to these questions, you need to go through the Island of Graves.
Island of Dragons
Till so far, Alex and his friends have somehow saved the Artime from the attack of enemies. But, the internal enemies are the biggest threat for Artime. How will Alex find those enemies and what will be his next strategy to defend his kingdom?
Next to the Unwanteds book series, Lisa McMann Books in Order contains Unwanteds Quest, Going Wild, Wake, and Visions. Now, let's see about each book series in sequence order.
Conclusion – Lisa McMann
If you love adventure and magical power-based stories, then Lisa McMann Books in Order is best for you. Her Unwanteds Book Series is outstanding and if you want to know about the battle of twin brothers, then you must go through it. Lisa McMann wrote many books and also categorized the same as per the readers.
The adolescent can go through Unwanteds and Unwanteds Quest. The adult readers can read Wake that describes Janie and her dreams.
Lisa McMann Upcoming & New Book Release – Clarice The Brave
Coming October 12, 2021
The only good cat is fed. Clarice, a young ship mouse, knows this to be true.
She and her brother, Charles Sebastian, were taught to be careful—as all mice are—but caution is no match for the sea, which took their mother, and it is certainly no match for Special Lady, the horrid cat who ate their sister. Now the siblings hide in their pantry crate, knowing every move they make could be their last.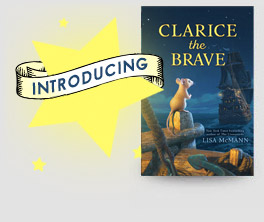 When a shocking mutiny forces Clarice onto a small, leaky boat with Special Lady and a dozen hungry sailors with deadly boots, Charles Sebastian is left on the ship to fend off mutineers, a flock of irate chickens an inquisitive human prisoner—a mouse's worst enemy

Being careful may have saved them in the past, but now Clarice and Charles Sebastian will need to grow bold if they are to survive . . . and keep their promise to find one other again.

From the New York Times, the bestselling author of The Unwanteds comes to an unforgettable adventure filled with perseverance, kindness, and hope.
Top FAQ Based on Lisa McMann
Who is Lisa McMann?

Lisa McMann is an American author and the creator of The Unwanteds and The Unwanteds Quests series for young readers and the WAKE trilogy for young adults. McMann was born in Holland, Michigan and now lives in the Tempe, Arizona. She graduated from Calvin College in 1990.

In which genre Lisa McMann has written her books?

She has written her books in Young adult fantasy, paranormal or dystopian genres.

How old is Lisa McMann?

She is 53 years old ( Born 27 February 1968)

Which is the upcoming/new book of Lisa McMann?

"Clarice the Brave" is getting released in October 2021. It will be an unforgettable adventure filled with perseverance, kindness and hope.
Other Top Authors to Read
What do you think about Lisa McMann and her books and series? Leave your thought and suggestions below.