Charles Finch Books In Order– Charles Finch is an American author who has written mystery novels, literary fiction, and Literary criticism. If you are an avid reader and looking for a mystic novel for adding spark to your library, Charles Finch books will be a great choice for you. Most of Finch's novels are written based on Oxford University and give the real feel of the surroundings while reading it.
Charles Finch Books In Order of Publication
Finch writes books to review for USA Today and Chicago Tribune. His favorite writers are George Orwell, Henry Green, Dick Francis. He reads their writing and other genres in his leisure. All his books are published by Martin's Minotaur a division of Martin's press.
Publication Order of Charles Lenox Mysteries Books
Chronological Order of Charles Lenox Mysteries Books
Publication Order of Standalone Novels
| Book Title | Year | Buy at Amazon |
| --- | --- | --- |
| The Last Enchantments | (2014) | Buy Now |
Publication Order of Non-Fiction Books
| Book Title | Year | Buy at Amazon |
| --- | --- | --- |
| What Just Happened: Notes on a Long Year | (2021) | Buy Now |
Charles Finch – A Quick Biography
Born in 1980, Charles Finch is from New York city took his graduation degree from Yale and Phillips University. He is the grandson of American writer and author Annie Trixie. He also got his master's degree in English Renaissance Literature from Merton College, Oxford. Charles tied the knot with Emily Linda Popp in 2011 and at present, living with his wife Linda in Chicago.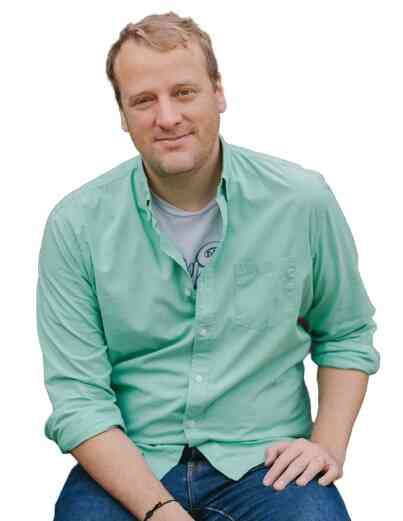 Finch has written a series of mystery and detective novels set in the Victorian era in England. Many books review and essays are also written by him. His first published novel "A Beautiful Blue Death" was named one of the best books in Library journals and also nominated for the Agatha award as a new mystery. Charles serves as the curatorial board of the art colony and board of the National Book critic circle.
Charles Finch started his writing career at a very young age during his college time. He established himself as an outstanding author and took his writing inspiration from his college education. During this period only, he introduced Charles Lenox's character in his first novel series that consist of 8 novels.
Charles Finch Top Books Summary
Here, we will discuss some of Charles's best novels from the Lenox series, their plot and characterization, and how they were welcomed by the readers.
A Beautiful Blue Death
The first Charles Finch Books In Order is "A Beautiful Blue Death". The novel sets in 1865, London, and the story introduced Lenox a wealthy gentleman and enjoys solving mysterious cases. This book in the Lenox series introduces Lady Jane along with Charles Lenox.
One day Lady Jane, who was his childhood friend, and a next-door neighbor calls Charles to solve the mystery of the death of her former servant Prudent Smith. Her death is suspected to be suicidal but Charles's investigation finds it's a death by consuming Poison. Charles found the house where she used to work is full of mystery.
Throughout the story, Lenox's efforts are hampered by Scotland yard inspector James Exeter who wants to control the case.
The September Society
Second, in the Lenox series, The September Society was published in 2009. With the beautiful subplot of a gentleman and amateur detective Charles and Jane's love story, this story in the series of Charles Finch Books In Order opens the secret of the student disappearance of Lincoln college.
His mother Lady Annabelle, who was a frantic widow, comes to Charles to investigate her son's George missing case. Charles himself the student of Oxford revisit the college and based on the trials he found out this is a murder case. Some bizarre clues lead him towards suspicious September society and this becomes the reason of reader curiosity s like Charles that what is the connection between these two things.
The incident is deeper than it seems. The plots will bound you to read the story till the last to get your answers.
The Fleet Street Murder
Third, in the Lenox series, The Fleet Street Murder novel was published in 2010 and is set in the time of 1867 of the Victorian era. This novel is nominated for Nero Awards in 2010.
Charles was celebrating his engagement with his childhood friend Jane when he got the news of the murder of two journalists across London. Charles starts to involve in this case despite the hostility of Scotland yard but soon leaves it. He traveled to North England where he is running for a parliament seat. In Stretton, he has to overcome the local doubt of outsiders and faces the shock when Jane sends a letter of doubt of his upcoming marriage but at the last, he found that the main culprit is old nemesis.
A Stranger In Mayfair
Fourth in the Lenox series, A stranger in Mayfair is again a mystery novel of the investigation of a footman.
A colleague of Lenox asked him to investigate this case. Charles unfolds many layers about the family he served and the footman's strange and second identity he cultivated. In the Mayfair mansion, he got the clue that one of his old friends implicates the footman's death.
A Suspect was arrested soon but Charles had his doubt that he discovers over time.
An East End Murder: A Charles Lenox Short Story
This short story is from 1865, London. This short story revolves around the investigation of a well-liked rat catcher. It story can be said the prequel of the Lenox series.it is a short story but very beautifully written.
The Extravagant Death: Charles Lenox Mystery
It is a recently published mysterious novel in which Charles uncovered the theft. Charles Lenox detective agency expanding rapidly. Prime minister Benjamin Disraeli offers him the opportunity for a diplomatic mission for the queen. Lenox also welcome this opportunity as it was his underlying desire to visit America's but a sudden shock after his arrival take place.
A beautiful debutant from the group appears to have thrown herself from the cliff or was it a murder? Through this, she presented a devilish story before readers and that of course win the heart of everyone.
Conclusion – Charles Finch
Charles Finch is the man of letters. His stories are well written and hold the curiosity of the readers till the end of the book. For his excellent writing and book reviews, he received a 2017 Nona Balakian citation for excellence in reviewing from the National Book circle. Charles Finch books in order will entertain you with their amazing mysterious stories so go, grab and read the wonderful mysterious stories.
Top Faq on Charles Finch
Who is Charles Finch?

Charles Finch is an American author and literary critic. He has written a series of mystery novels set in Victorian-era England, as well as literary fiction and numerous essays and book reviews.

In which year Charles Finch was born?

Charles Finch was born in 1980 (age 41 years).

In which genre Charles Finch has written her books?

Charles Finch has covered these genres Mystery, Literary Fiction, and Literary Criticism.

How many books are there in the Charles Lenox Mysteries series?

There are a total of 16 books in Charles Lenox Mysteries series.
Read more authors from 'the books in order"
What do you think about Charles Finch's books and novels? Leave your comment below.